Superior Line-up
| Modelos | Brillo | Resolution | ASpect Ratio | Tipo de lente |
| --- | --- | --- | --- | --- |
| XJ-S400UN | 4000 lúmenes | WUXGA (1920 x 1200) | 16:10 | 1.7X Manual Zoom/Focus |
| XJ-S400U | 4000 lúmenes | WUXGA (1920 x 1200) | 16:10 | 1.7X Manual Zoom/Focus |
| XJ-S400WN | 4000 lúmenes | WXGA (1280 x 800) | 16:10 | 1.7X Manual Zoom/Focus |
| XJ-S400W | 4000 lúmenes | WXGA (1280 x 800) | 16:10 | 1.7X Manual Zoom/Focus |
---
Especificaciones técnicas
Superior
XJ-S400UN
XJ-S400U
XJ-S400WN
XJ-S400W
Resolución nativa
WUXGA (1920 x 1200)
WXGA (1280 x 800)
Relación de aspecto nativa
16:10
Brillo
4000 lúmenes
Dispositivo de pantalla
DLP® chip x 1, DLP® system
Relación de contraste
20000:1
Tipo de lente
1.7X Manual Zoom & Focus
Fuente de luz
Tecnología híbrida LED y láser Casio
Duración estimada de fuente de luz
Hasta 20.000 horas
Tamaño de pantalla de proyección
30-300 pulgadas
Projection Range 60-inch screen
5,4 - 9,1 ft
5,7 - 9,6 ft
Projection Range 100-inch screen
9,2 - 15,4 ft
9,7 - 16,2 ft
Corrección trapezoidal
Vertical +30⁰ (Auto), Vertical + or - 30⁰ (Manual)
Fuente de alimentación
CA 100 ~240 V, 50/60 Hz
Opteraing Power
250 W - light control "off" Bright selected 210 W - light control "on" and "Light Output 7" selected
255 W - light control "off" Bright selected 215 W - light control "on" and "Light Output 7" selected
250 W - light control "off" Bright selected 210 W - light control "on" and "Light Output 7" selected
255 W - light control "off" Bright selected 215 W - light control "on" and "Light Output 7" selected
Espera *100 a 120 V
0,09 w
View More Specifications
---
Features.
Superior Color and Brightness
Casio's Superior Series LampFree® projectors provide high brightness of 4000 lumens in WUXGA and WXGA resolution and a 1.7X zoom lens for increased flexibility with installations. Superior WUXGA (1920 x 1200) models provide full HD resolution with crisp images and vibrant colors.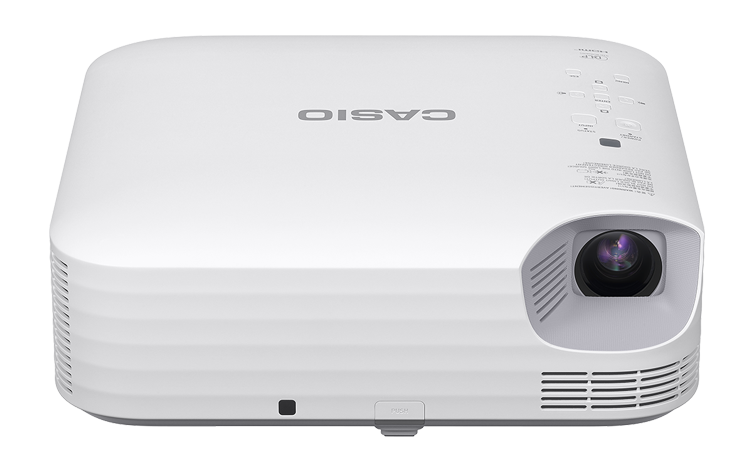 Educational Solutions
One Click Connection allows wireless projection by simply clicking on the dedicated icon for each classroom on your device. Less time is needed for chores like cable connection, input switching, and wireless setup so that classes can start on time.