Ultra Short Throw Line-up
| Modelos | Brillo | Resolution | ASpect Ratio | Tipo de lente |
| --- | --- | --- | --- | --- |
| XJ-UT351W | 3500 | WXGA (1280 x 800) | 16:10 | Fixed/Manual Focus |
| XJ-UT351WN | 3500 | WXGA (1280 x 800) | 16:10 | Fixed/Manual Focus |
| XJ-UT311WN | 3100 | WXGA (1280 x 800) | 16:10 | Fixed/Manual Focus |
| XJ-UT352WN | 3500 | WXGA (1280 x 800) | 16:10 | Fixed/Manual Focus |
| XJ-UT352W | 3500 | WXGA (1280 x 800) | 16:10 | Fixed/Manual Focus |
| XJ-UT312WN | 3100 | WXGA (1280 x 800) | 16:10 | Fixed/Manual Focus |
---
Especificaciones técnicas
Distancia ultracorta
XJ-UT311WN
XJ-UT351W
XJ-UT351WN
XJ-UT352WN
XJ-UT352W
XJ-UT312WN
Resolución nativa
WXGA (1280 x 800)
1.024.000 píxeles
Relación de aspecto nativa
16:10
Brillo
3100
3500
3100
Dispositivo de pantalla
0,65" DLP
Relación de contraste
20000:1
Tipo de lente
Fixed/Manual Focus
Desplazamiento de la lente
70%
Fuente de luz
Tecnología híbrida LED y láser Casio
Duración estimada de fuente de luz
Hasta 20.000 horas
Tamaño de pantalla de proyección
50" - 110" diagonales
Projection Range 60-inch screen
0,4 pies
Projection Range 100-inch screen
1,3 pies
Mínimo
0,2 pies
Relación de alcance
0,28:1
Corrección trapezoidal
Vertical and Horizontal + or - 5° (Manual)
Reproducción de color
Full Color (1,07 billion colors)
Fuente de alimentación
CA 100 ~240 V, 50/60 Hz
Funcionamiento
110W
125W
110W
Modo de espera
0.23W Remote off, 2.6W Remote On
View More Specifications
---
Features.
Educational Solutions
One Click Connection allows wireless projection by simply clicking on the dedicated icon for each classroom on your device. Less time is needed for chores like cable connection, input switching, and wireless setup so that classes can start on time.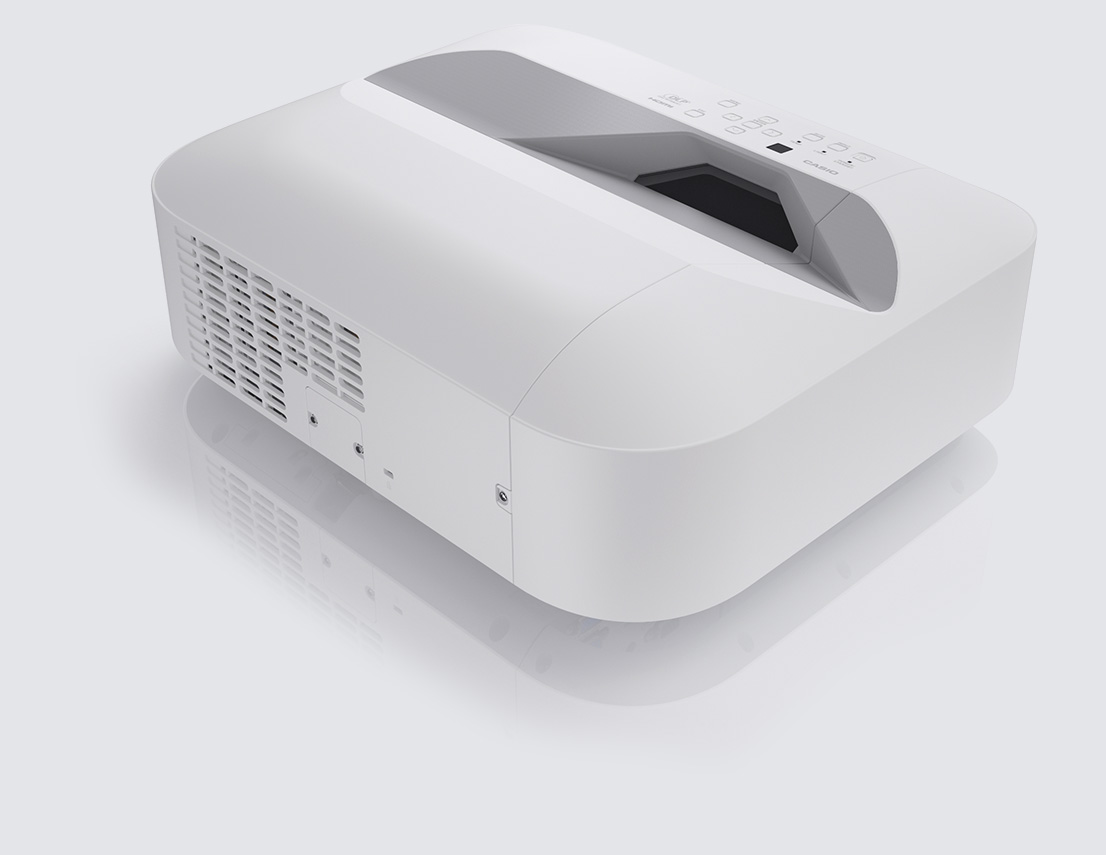 Resistente al polvo
The Ultra Short Throw cabinet has a unique structure with three separate blocks, and the primary light source unit is tightly shielded. This suppresses dust intrusion and improves dust resistance, ensuring worry-free performance even in dusty environments.